Holkham Hall is an elegant Palladian style mansion, based on designs by William Kent and was built between 1734 and 1764 by Thomas Coke, the 1st Earl of Leicester. Today, it is home to his descendants. The house reflects Coke's natural appreciation of classical art developed during his Grand Tour. Built from local, yellow brick, with its pedimented portico, square corner towers and side wings, it has been little altered over the years, and has been described by Sir Nikolaus Pevsner as "The most classically correct house in Britain".
Holkham Estate"The Marble Hall" entrance is a spectacular introduction to this vast and imposing house, with its 50ft pressed plaster dome ceiling and walls of English alabaster, not marble as its name implies. Stairs from the Hall lead to magnificent state rooms with superb collections of ancient statuary, original furniture, tapestries and paintings by Rubens, Van Dyck, Claude, Gaspar Poussin. and Gainsborough.
On leaving the house visitors enter the lavender-fringed Pottery Courtyard. Here the original stables block houses the Bygones Museum; a display of more than 4,000 items of domestic and agricultural memorabilia, ranging from working steam engines, vintage cars and tractors to gramophones, craft tools and kitchenware.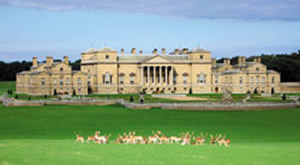 In the adjacent former brew house and malt house, the History of Farming Exhibition highlights how a great Estate such as Holkham works and has evolved, explaining Coke of Norfolk's role in the great Agricultural Revolution of the 18th Century.
In the same courtyard, the elegant Pottery Shop, once the former laundry for the Hall, offers a wide range of colourful and purposeful pottery manufactured on the Estate since 1951, along with a wide range of quality gifts and souvenirs.
Opposite, the light and airy Stables Café tempts visitors with delicious, local produce for a light snack, lunch or afternoon tea and Holkham's own, home made, mouth-watering ice cream.
Set in a 3,000 acre park with herd of wild, fallow deer and mile-long lake, visitors can explore the park and wildlife with designated walks, a nature trail or enjoy boat trips on the lake in the summer months.
Outside the north gates to the park, Holkham Village with its internationally-acclaimed hotel, fascinating shops, gallery, tearooms, beach; famous for the closing scenes of 'Shakespeare in Love' and National Nature Reserve, offers more to discover.
Holkham offers a variety of events throughout the season, from operas in the Marble Hall, outdoor theatre productions in the Pottery Yard and Walled Gardens, to open-air concerts in the south Park featuring major popular and classical artists.
Holkham Estate
Wells-next-the-Sea
Norfolk
NR23 1AB
Tel: 01328 710227
Email: enquiries@holkham.co.uk
www.holkham.co.uk